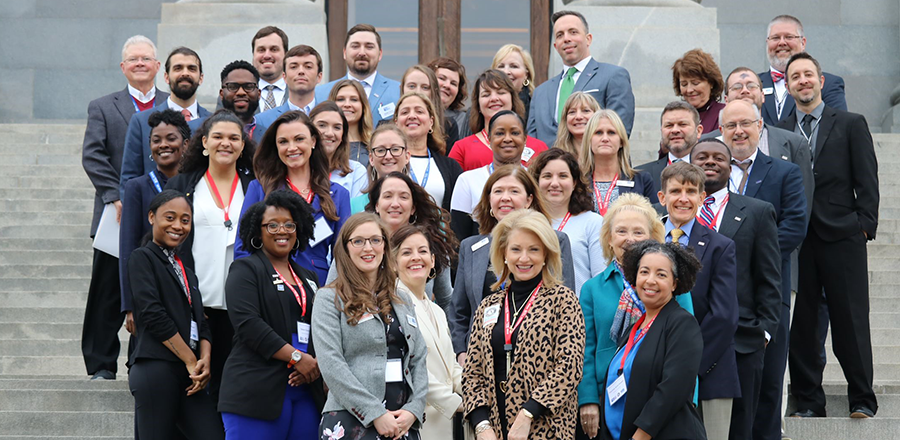 Advocate. Do you know what it means to advocate?
Advocacy means different things to different people. For some, advocating means talking to others about important issues facing our community; for others, advocacy takes place through writing a letter or getting in touch with an elected official to voice concern or support.
Did you know anyone can champion the cause?
Whether you're speaking out to improve education, financial stability and health, or wearing your LIVE UNITED shirt to show support, you can help inspire hope and create opportunities for a better tomorrow. So go ahead, advocate in a LIVE UNITED world. Do it in public. Be visible. Be loud. Whatever you do, make your voice heard!
Trident United Way gives voice to community solutions at the state and local levels. Our public policy agenda for 2020-22 focuses on causes that matter to you:
    School Readiness
    Third Grade Literacy
    Increasing Access to Quality Health Care
    Access to work supports
    Gaining and Sustaining Assets
Learn more about our Public Policy Committee
The Trident United Way Public Policy Committee is committed to providing strategic direction for all matters related to public policy and advocacy in support of the Agenda for Community Impact at Trident United Way. The committee members include:
Anna Hamilton-Lewin, Community Volunteer, Chair

Craig Ascue, Community Volunteer

Bryan Boroughs, Institute for Child Success

Greg Bulanow, City of North Charleston

Alyssondra Campaigne, Engage Strategies

Sara DeWolf, J.D., Community Volunteer, Immediate Past Chair

Don Gordon, The Riley Institute at Furman University

Dwayne Green, MPG Consulting Group

Shayna Howell, Community Volunteer

Naomi Lett, United Way Association of South Carolina CEO (Ex-officio)

Elaine Morgan, Berkeley County Chamber of Commerce

Charles Patrick, Richardson, Patrick, Westbrook & Brickman, LLC

Jerome Tilghman, Ernest E. Kennedy Center

LaTisha Vaughn-Brandon, Tri-County Cradle to Career Collaborative

Kathryn Whitaker, Burr & Forman LLP
Trident United Way Staff Participants
Amanda Lawrence, VP of Community Impact

Chloe Knight Tonney, Presidnet and CEO
Cast a ballot and build a relationship with your elected officials. For information on voting in South Carolina, visit the South Carolina State Election Commission's Website.
 






 Interested in learning more? Contact Amanda Lawrence alawrence@tuw.org or (843) 740-9000.